My first ever fan art for anything.
---
A pixel pic of Raz with a concentrated look on his face, and wearing the goggles. How he looks before he glows in the Brain Tumbler.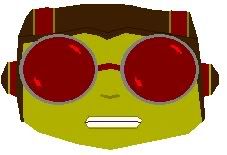 ---
Bunnies go in
Meat comes out
That's what Olly's mental butcher shop is all about!